Get the most comprehensive overview of salaries and hiring trends in your industry
For more than 20 years, employers and professionals alike have relied on the Robert Walters Salary Survey to help them make critical decisions for their businesses and careers.

The digital edition of the Robert Walters Salary Survey gives you easy access to all the salary and market trends you need to know — whether you're in the office, at home or on-the-go.
What's inside...
In addition to a comprehensive guide to salaries for thousands of roles in 31 countries, our new digital Salary Survey is packed with helpful tools and resources for hiring managers and job seekers alike, including the latest trends and analysis for your industry, as well as video updates on market conditions from our experts.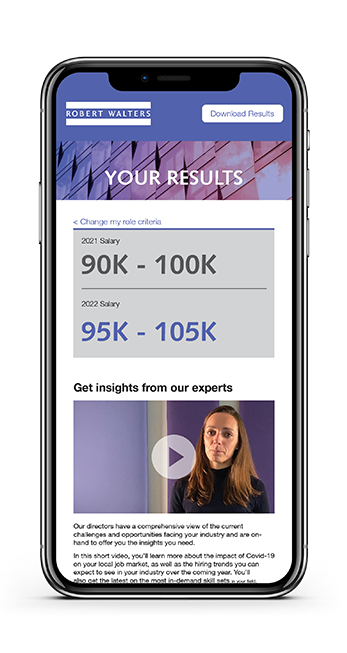 For employers
If you're growing your team or simply need to retain the talent you have, the Salary Survey gives you the insights you need to have the right team in place to keep your business moving forward.
For employees
Whether you're looking for a new role or preparing for your end-of-year appraisal, the Salary Survey will arm you with everything you need to know to get what you deserve.
Our outlook for 2022 in Thailand
Welcome to the digital Robert Walters Salary Survey. In 2021, we saw less impact on Thailand's hiring market compared to 2020, as majority of companies have resumed hiring. Despite work-from-home arrangements, companies were not as frantic as the year before, and the world is steadily heading towards normalcy.
We saw companies focusing on hiring for Thailand-based roles, with many senior-level vacancies filled amid company restructures. Furthermore, we continue to see high hiring demand in the tech sector, particularly in digital marketing and e-commerce. This is similar within the healthcare, FMCG, manufacturing, supply chain and engineering spaces.
In 2022, tech and transformation-related roles will continue to be in high demand. At the same time, companies will also likely continue adopting hybrid work models, as it has proven to be an effective arrangement. Businesses will now be able to fill talent gaps hiring skilled talent from abroad, as there is no longer a need for relocation.
Our outlook for 2022 in South East Asia
Hiring saw a rapid rebound in the first half of 2021, which was sustained for the rest of the year in most markets. Across sectors, manufacturing has been affected significantly due to the rise of the covid-19 variants. However, digital and tech experienced the greatest boost in hiring, accelerated by digital transformation initiatives of many companies across all sectors.
Moving into 2022, the hiring market is likely to cool down slightly after the hectic boom in 2021. Countries that have come out of lockdowns may see attrition rates go up and employees changing jobs.
With tech and transformation expected to experience continued rapid growth, companies will be looking for skill sets in 5G rollouts, data analytics, and blockchain. Even traditional industries are focusing on growing their tech-focused services, and this will see a rise in demand for skills in edtech, health tech, and automation in manufacturing.
Ready to learn more?
Complete the form with your details to request access to the 2022 Robert Walters Salary Survey today.